ALUMNI SPOTLIGHT:
Daniel Schwab
A classical, Christian education prepares students for many different futures. Our graduates have gone into medicine, research, education, homemaking, business, entrepreneurship, and more. From time to time we catch up with a former student to see how they're doing and what they've been up to. Daniel Schwab graduated from Covenant in 2014 and now studies industrial design at the Rochester Institute of Technology. We hope you enjoy reading about how Daniel's time at Covenant helped him to develop a wholistic approach to learning and an appreciation for community. (You may view Daniel's design portfolio, including the design used for our Featured Image, by going to dschwabdesign.com).
---
Describe your post-Covenant journey so far.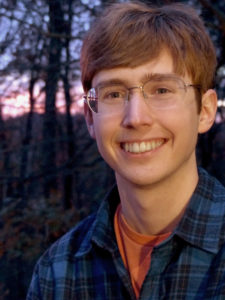 I have invested three and a half years into further education at Rochester Institute of Technology, and I am finishing my industrial design degree in May this year. While in Rochester, I have connected myself with a thriving church family, become a member and leader of the RIT InterVarsity Christian fellowship chapter, and been involved in an apologetics club on campus.
How did you get into your field? What would you like to do with it?
I was led to the industrial design major by my guidance counselor at Covenant. I am interested in all sorts of design, but most enjoy designing furniture, small academic and household items, and toys. Ultimately, I want to serve God with what I love.
Some people believe that a classical education only prepares students to continue studying the liberal arts. How did Covenant's liberal arts education prepare you for your field?
My classical education helps me understand how people work. I have a wholistic view of the human being and an objective view of beauty. Because industrial design is all about the connection between people and the designed object, I am able to apply my liberal arts knowledge every day. In addition to this, learning logic and rhetoric has strengthened my communication inside and outside of my field.
What would you say to a family considering joining Covenant?
You will never regret giving your child the foundation that a classical education provides.
What is one of your favorite memories from your time at Covenant?
The feeling of stepping down off of the stage after finishing my eighth grade speech as a Roman senator is mirrored by the feeling of stepping off the stage after defending my senior thesis.
What are you most thankful for about Covenant?
I love Covenant Christian Academy, but not because of a building or a specific curriculum. I love it for the people who poured into my life there. Their service at Covenant was a matter of self-sacrifice: endowing a love of beauty, knowledge, and truth to the next generation in the name of Christ. There is no better education to be bought.
What advice do you have for students about being a Christian on a secular campus?
Find Christian community on campus. Worship God at a Gospel proclaiming church. I have seen so many Christians stumble and fall because they were not diligent in these matters!
What would you say to your ninth grade self?
My dear child, Daniel Schwab, this is not all going to work out because of you!
For any family interested in joining us on the journey of classically educating students, preparing them for the future, and teaching them to walk with the Lord, we invite you to become part of the Covenant community.  To learn more,  please contact our Director of Admissions, Katie Broeg at Katie.Broeg@DiscoverCovenant.com or fill out the form below.