Alumni Spotlight | Allie Good
One thing parents of students universally want to know is how the education their children are receiving will serve them in the future.  Is the rigor worth it?  What do their future paths look like?  Does classical education make a long term difference?  Are their children prepared for the "real world"?  How does classical education serve students who do not go on to study the liberal arts? 
While each story is different, students who have been classically educated tend, not only thrive, but to look back at their education with gratitude and fondness.  Many cite it as the foundation upon which many of their successes have been built.  One such student is 2016 valedictorian, Allie Good. We recently reached out to Allie who was kind enough to write back in spite of multiple mid-term exams and a service trip to Houston over Spring Break. Here is what she had to say.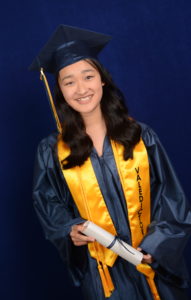 Describe your post-Covenant journey so far.
I am currently a second year Biomedical Engineering student at The Ohio State University in Columbus, Ohio. I started here in the fall of 2016, and it wasn't easy. Transitioning from a class of 14 to a lecture hall of 300+ was difficult and took a semester or two to fully adjust to, but it has gotten easier as I've re-learned how to learn in such a different environment. At the end of my first year I applied into my major and was accepted that summer, and I am now taking specific classes in my field. I am currently involved with the Injury Biomechanics lab here at OSU, which investigates the relationships between human injury and physical mechanical properties. Additionally, this summer I will be working at Select Medical as a Qualitative Data Analytics Intern.
Non-academically, I heavily involved with a church on campus, H2O, and I am now the co-leader of a small group and the leader of the lights crew for our campus services. I've played in women's and a co-rec intramural basketball leagues, joined the Biomedical Engineering Society, and am the secretary of the Disney Club.
How did you get into your field? What do you plan to do with it?
I originally wanted to be a doctor, but in high school I grew more interested in engineering. As I began seriously considering college majors I found biomedical engineering and thought it was a great way to combine my interests. It's a rising field with many colleges just now developing their BME degrees, and OSU's program seemed like a great fit. I plan on focusing in biomechanics with the intention to join the industry after undergrad. Ultimately, I would like to end up designing or improving prosthetics and orthopedics or rehabilitation devices.
Many people believe that classical education only prepares students to continue studying the liberal arts. How did Covenant's liberal arts education prepare you for your scientific field?
The first year in any scientific field is a weed-out year; the courses you take are intentionally made to fail people, and that is a much different method of education that Covenant takes. However, I did have the advantage of a strong work ethic. I had already learned to put my head down and work hard in school to earn a decent grade. Whether that comes from Covenant or from myself, I don't know, but I do know it was first practiced and developed and encouraged at Covenant.
What is one of your favorite memories from your time at Covenant?
Being involved as the stage manager in our production Arsenic and Old Lace my senior year is probably the best collection of memories I have from Covenant. Nothing can match the community and sense of accomplishment I think we all felt, cast and crew, at the final curtain call.
How did your time at Covenant prepare you to be a Christian on a secular campus?
I attended Covenant from kindergarten, so my time there was essentially my whole life. Consequentially, Covenant was a large contributor to my religious beliefs. The curriculum in grammar school gives foundational knowledge of the Bible, and in the upper school we learned more complex theological arguments and debates. Our education gave us the head knowledge of Christianity. However, I would say that the real impact I had was from talking and building relationships with teachers and friends who imparted their experiences and faith with me throughout high school. It was the people who poured into me that exemplified Christianity and relationship with God, and they have ultimately been the most influential in my faith as I continued on in college.
What would you say to your ninth grade self?
Get as involved in high school extracurriculars as possible, that's what you remember. Learn how to code, get as much STEM experience as possible, and apply for more scholarships.
Love Jesus, love your parents, love your dog because you'll miss her most, nothing in high school is as important as it seems, and buy Bitcoin early on.
For any family interested in joining us on the journey of classically educating students, preparing them for the future, and teaching them to walk with the Lord, we invite you to become part of the Covenant community.  To learn more,  please contact our Director of Admissions, Katie Broeg at Katie.Broeg@DiscoverCovenant.com or fill out the form below.