This Saturday, Covenant Christian Academy celebrated "An Evening of Gratitude", commemorating 20 years of God's faithfulness. About 200 attendees gathered together at Messiah College, including Covenant's faculty, staff, students, board, parents and supporters. The group enjoyed fellowship, good food, a silent auction, slideshows of years past, celebration of the school's history, and speeches from the founding headmaster, a current Upper School student, an alumna, and the keynote speaker: Hon. Paul J. McNulty, President of Grove City College.
Dr. Sonju, Covenant's head of school, set the tone for the evening, by welcoming everyone to enjoy a wonderful night of fellowship together in celebration of 20 years of God's faithfulness at Covenant. Dr. Dean Curry, Dean of the Honors College at Messiah College, then offered a welcome on behalf of Messiah College since the event was hosted in the beautiful Martin Commons on Messiah's campus. Dr. Curry praised Covenant graduates who have "enriched the academic and co-curricular culture of Messiah College in innumerable and meaningful ways", including six Covenant alumni who currently attend there.
Following a delicious main course, Mr. Jesse Mauer led Covenant's Chamber choir in blessing the audience through song. They sang a choral arrangement of the traditional hymn, "Abide with Me", an evening hymn fitting for the occasion. Dr. Sonju pointed out that several of the choir singers were members of our Covenant Volleyball team who earlier that day had played in a state quarterfinals match. Since a classical education aims to form students in the fullness of their humanity, it is fitting to hear a choir made up of athletes and scholars.
Our first speaker was Covenant's first headmaster, Dr. Christopher Perrin, who stole the show with hilarious stories from the early years, remarking that it was like "riding a tiger…we were taking chances everywhere…we were trying to learn as we moved along." Classical education was something they were trying to recover and renew, providing an education to their children that they hadn't received themselves. "Education" he said, "used to be the cultivation of a soul, on truth, goodness and beauty, by reading the great books, by means of the liberal arts, under the Lordship of Christ." As Covenant developed as a school, "we were reading things about what education used to be and then trying to bring it to life at Covenant Christian Academy in Harrisburg, Pennsylvania." Dr. Perrin also praised Covenant for its close community, warm and welcoming atmosphere and relational integrity; all of which it has maintained as a small school. He called upon those in attendance to strengthen the wobbly bridge back to classical education that he and the early founders of Covenant began slowly to forge.
Lucas Lanza (class of 2018) shared that his love and desire for fellowship is one of the greatest gifts being part of the Covenant community has given him. He sees fellowship as a time "when believers come together and share their walks with Christ, what they are grateful for, and their struggles." He has been able to think about his life and faith with depth, in accordance with the Word.
Erin Burlew (class of 2010) shared her gratitude for the education she received at Covenant. Ms. Burlew shared that Covenant taught her to think and speak well which has served her well in her career as a CPA. She quipped that although her profession is not typically associated with eloquence and confidence, she argued that her Covenant education has given her confidence to argue her points with clients –a task that can require much courage when disagreeing with a senior financial executive on a particular point. She is also grateful for how her classical, Christian education has given her discernment to evaluate and choose a new church and community upon moving to Richmond.
Hon. Paul J. McNulty gave the keynote address, speaking from his own experiences as a Christian educator and from his personal walk with the Lord. He spoke in particular about what makes education truly transformative. President McNulty compared transformative education to the farm to table movement in the restaurant: how do we really know which is the real deal? Christians seeking a transformative education, McNulty said, should look to the truth of God's word first. He quoted Romans 12:1-2, pointing out that, in order to be truly transformational, there must be holistic change, dedication to God, a non-conformity to the world, and a mind renewal. He reminds that "it's more important than ever that through schools such as this…that we are training up young people to have discernment, to understand God's word, and then to apply it faithfully in all circumstances." We live between a period where God is transforming and a period where God will have transformed all, when we eat the richest "farm to table" food there is in His new kingdom. President McNulty concluded that "education serves the purpose of bringing [students] to that wonderful place where they are celebrating that fantastic, eternal fellowship with Christ."
Mr. Michael Geer, proud parent of Covenant alumni and board member closed the night in prayer and an invitation to partner with Covenant. A generous donor has offered to match donations up to $75,000, creating a special opportunity for those wanting to partner with the work God is doing at Covenant. The school is very thankful to have been able to raise over $73,000 through this event. Reflecting on this outcome, Dr. Sonju remarked that "this is a record-breaking fund-raising night for our school. It is incredibly encouraging to know that so many people want to support our mission as we move into our third decade together."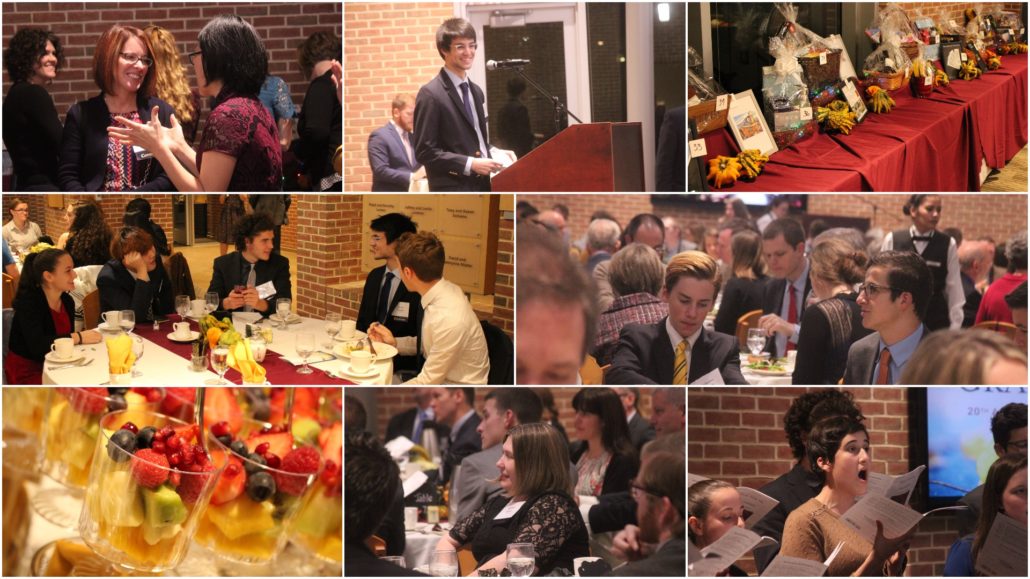 https://discovercovenant.com/wp-content/uploads/2017/11/IMG_0127.jpg
1365
2048
covenant
https://discovercovenant.com/wp-content/uploads/2015/07/logo-icon.png
covenant
2017-11-17 16:22:41
2017-11-17 16:22:41
An Evening of Gratitude