While many of our families were enjoying spring break by relaxing, traveling, and resting, one of Covenant's faculty members – David Kemper – along with a cohort of student and parent helpers, was busy performing one of the biggest annual transformations that Covenant experiences: the building of the set for our drama production.
Mr. Kemper teaches history, literature, and rhetoric, and serves as Covenant's lead teacher of classical pedagogy. He is also the Director of our drama production. He and his team of helpers built a gorgeous set for this year's production of Romeo and Juliet – working over spring break every day except Sunday, from morning to night, to get it done. The play promises to be excellent – so buy your ticket and come and join us for one of the shows beginning on April 19.
We recently asked Mr. Kemper to provide some insight into his Director role.
How long have you been directing plays at Covenant?
This is my fourth year directing plays at Covenant.
What are the shows that you have directed or been involved in?
Hamlet was the first play I directed, then Arsenic and Old Lace, The Imaginary Invalid, and now Romeo and Juliet. Before that, I've been involved with most of the plays in some role or another. My first set design and construction was Antigone performed in the Parmers' home theater in 2004. Since then I've designed a few sets and mentored student directors from Messiah College who came in to work with our students.
Why did you choose to do Romeo & Juliet this year?
Selecting Romeo and Juliet as this year's play was a group effort. We have a tradition of performing a Shakespeare play every few years, and I think Mr. Hayward suggested it might be time again to do a drama. I settled on Romeo and Juliet, pitched it to students, faculty and administration and it stuck.
Do you have a favorite line or lines from this play?
My favorite line so far is Friar Laurence's wise observation spoken to Romeo:
"What early tongue so sweet saluteth me?
Young son, it argues a distemper'd head
So soon to bid good morrow to thy bed.
Care keeps his watch in every old man's eye,
And where Care lodges, Sleep will never lie;
But where unbruisèd youth with unstuff'd brain
Doth couch his limbs, there golden sleep doth reign…"
Aside from the characters, what are other roles that students perform to make a drama production?
I try to involve students in most of the stages of production. From creative vision to acting coaching/direction to set construction and costume design/acquisition, facility management, lighting looks, sound vision, make-up concepts, prop management, actor support, audience care, … really just about every part of what it takes to give a community a full and successful performance.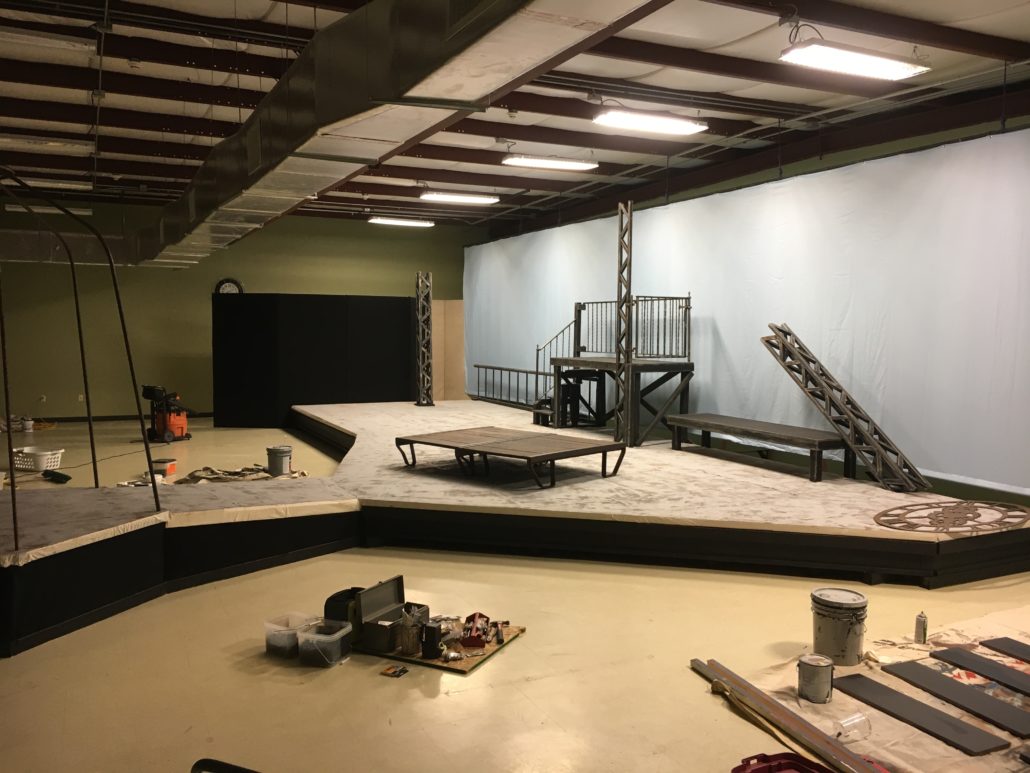 How did you come up with the idea for the set?
My favorite sets have been the more abstract sets I've seen… ones that communicate a theme or inspiration from the script, but that don't explicitly describe this or that scene. In Romeo and Juliet, the script calls for a balcony. It calls for a bed, a burial chamber. I think a good designer can think of ways to make pieces of the set become all sorts of different items based on how they're used. That way there doesn't need to be scene changes with various painted back-drops to tell the audience where they are. This can be done more abstractly with minimal set cues and lighting and audio. Our balcony is the remnant of a broken clock tower. Shakespeare has something to say about time improperly managed as a tertiary theme beneath love and vengeance. The idea is to engage the audience in a way that leaves space for their minds to fully imagine that what they are seeing is really happening in front of them. Tell them too much, and they feel separate from the art. Tell them just enough, and they feel like a part of it.
The construction of the set takes a lot of help. From materials, donations/purchases, and trucks/trailers to haul those materials, to hands to carry and cut and assemble, again, every volunteer, student, and parent is a valued contributor!
What are some of the things that you've seen students learn from being a part of a drama production?
By participating in the play, whether acting or in some of the other ways mentioned above, students learn to value interdependence. Not only do they experience the feelings of triumph after a great performance (a valuable sensation). Students become emotionally linked to one another. I suppose it's similar to students who work hard together on the soccer field. In team sports, success isn't determined by one player. I think this is also true for a successful theatrical performance. The lead actors might have more lines, but if the lights don't come up, who would see them delivered? If the supporting cast member doesn't cue their entrance by carrying the right prop, how would a sword fight commence? Students learn to depend on each other in sometimes challenging but achievable ways. They really can count on their cast mates and technical crew and directors.
Take us through what all goes into this. When do you select the play? What work do you do to the script? When do auditions occur? Who are some of your non-student helpers? How often are rehearsals?
After the play is selected I do multiple reads of the script taking into account my pool of actors, facility strengths, the sensitivities of our diverse audience, and then begin to edit/alter/shape the script in small ways. This is necessary with Shakespeare since there are just some lines that are too bawdy for our student-actors and our audience. We then schedule the auditions depending on what kind of work I think actors will need to put into memorizing their lines. This theater season, we held auditions before Christmas, to ensure that leads would have a script in their hands over break. During this time, a production team of a couple parents and faculty begin emailing back and forth generating ideas, schedules, and parent volunteers and more schedules and timelines. Without the help of Erica Bryce, Val McClymont, and Teresa Lanza very little of this year's production would have come together. It really is just too much for one person to carry. Having a strong team of passionate and driven friends is essential for our dramas to come together. I'm so thankful for these ladies and their committed involvement. I develop a schedule by splitting the script into manageable pieces and trying to take into account any schedule conflicts. We like to start rehearsals after basketball season is over for example, and sometimes I'm able to accommodate work schedules or family activities for students who request flexibility. All that considered we do try to rehearse every day up till the performances… except for Easter break and most weekends.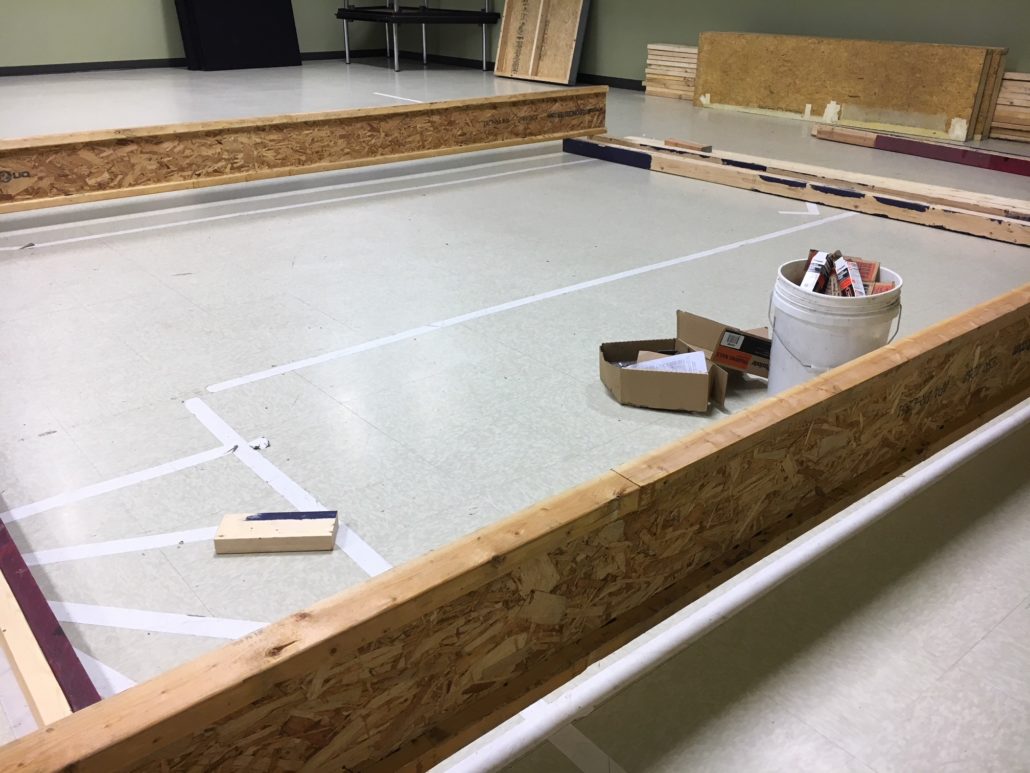 That sounds like a lot of work…
Well, it is a lot of work… and I reevaluate if I'm able to commit to all of it every year. Again, without the team that crowds around me to support and manage so much of the process, it just wouldn't happen. There are so many that I don't have room to mention, but aren't valued or loved any less than those I have.
Do you sleep well at night?
I sleep just fine, I guess… I'm smiling as I write this. The thing is, I might sleep more restfully if I worked from lists, but I don't. I can recount stories of how I awake from a dream in the early morning hours with solutions to one or more of the problems I hadn't yet thought out. Or sometimes I dream in a particular character's point of view, as I work out motivations or movements to better direct the student actors. But yeah, I sleep.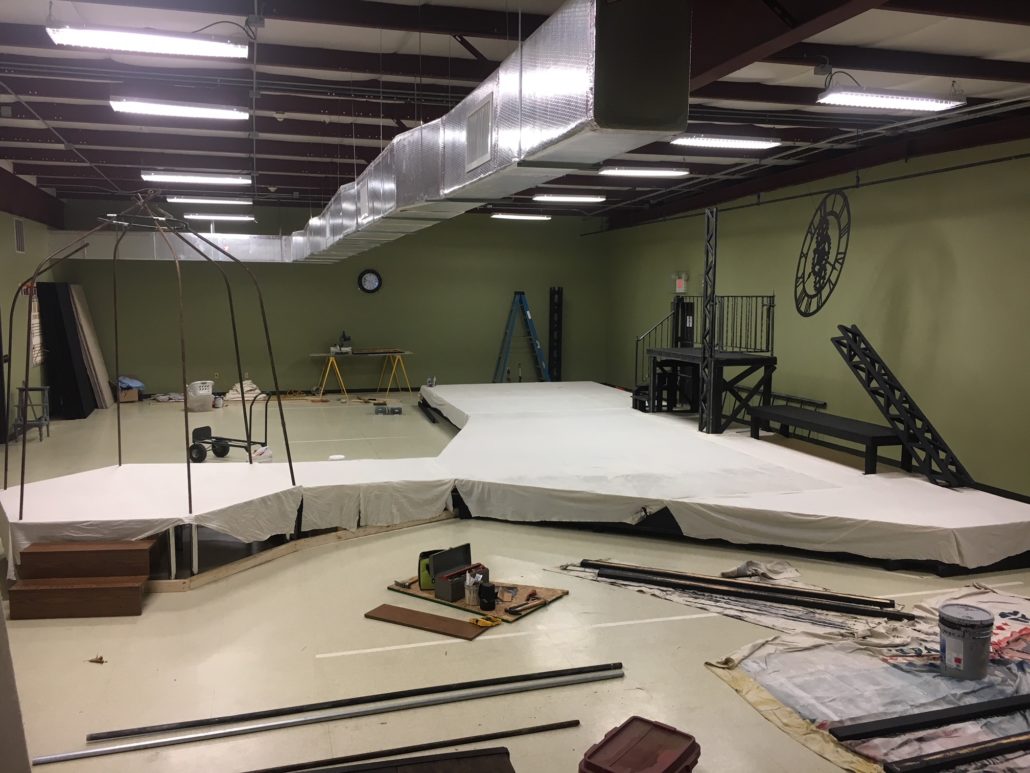 How do you recover when it's all over?
The process of taking it all apart when it's over is a cathartic way to recover from the process of building it all. That is, partaking in conversations afterwards, hearing how the play impacted viewers, hearing how the actors have moved back into normal schedules and where their heads are, physically demoing the set, trying to return all the props and set pieces and costumes that were loaned to us or rented… in a sense just returning to normalcy and a satisfied rest, like returning home after a strenuous hike. I remember the vistas, and the taste of the streams, and in all seriousness, sometimes I weep.
In your opinion, how does the theater enhance a student's education?
Theater is just one of the many ways a student is best educated. It is frivolous. It is pretend. But it is also essential and real. Theater might only be an echo of reality in terms of actors and characters and pretend spaces, but theater directs a student toward discovery in a way that offers new insights on the world and people around them. Theater is simply literature for the stage, bringing life to old words, old themes. When young people do theater, old things become new… for them, and for us.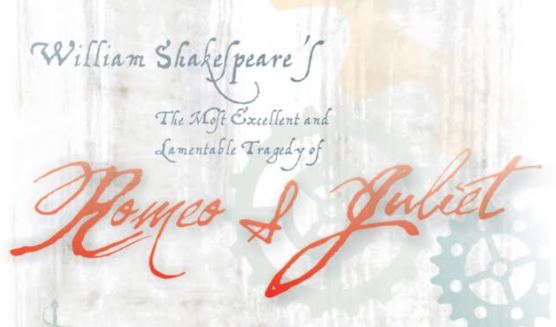 https://discovercovenant.com/wp-content/uploads/2018/04/Kemper5.jpg
1360
2048
covenant
https://discovercovenant.com/wp-content/uploads/2015/07/logo-icon.png
covenant
2018-04-11 09:13:40
2019-01-07 13:55:50
Behind the Scenes