On September 11, 2015, Covenant Christian Academy is proud to welcome "Slug and Bugs LIVE"—a one-of-a-kind family event for parents and kids to experience together. Randall Goodgame leads the approximately 45-minute performance with live music, background musical tracks, and brightly colored animated videos that extend through most of the songs.
The concert is peppered with fun, interactive moments for the whole family. Kids spin around, parents get silly on stage, sometimes there's even a parade. Slugs and Bugs LIVE is truly an investment in your community as Randall leaves both kids and parents with laughter in their hearts and a deepening awareness of the presence of Jesus in their lives!
The Slugs and Bugs project is about making great music that the whole family can enjoy together. (Something any parent who has listened to the same children's CD umpteen times in a row will greatly appreciate!)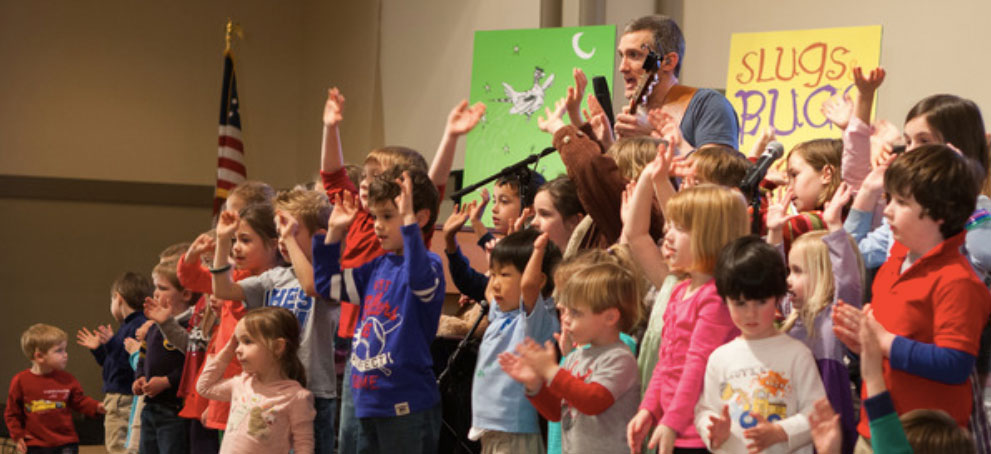 Here is what Randall Goodgame has to say about his Slugs and Bugs music:
"We believe songs are one of God's powerful tools for building strong relationships. When songs inspire laughter or deep spiritual thought, they can transform a routine car ride into a sweet family experience. Over time, that influence can profoundly impact the culture of the home. Slugs & Bugs aims to write those songs. We want families to sing together, laugh together, and think deeply together about the meaning of life and the nature of God. We believe those shared experiences will translate into stronger relationships in the family and a deeper understanding of their relationship with Jesus."
Randall Goodgame, the driving force behind Slugs and Bugs, is a critically acclaimed singer/songwriter who has released six solo recordings and written many songs for other artists, including Veggie Tales and Caedmon's Call. His concerts are full of energy and laughter and will leave your family with a belly full of laughter and joy.
Reserve your free ticket today for Slugs and Bugs LIVE concert on September 11 at Covenant Christian Academy.