The Famous Read-a-Thon Board
Ms. Patty spent some dedicated time taking photos of the students reading and made this beautiful display for the Grammar School hallway! We've heard a lot of stories throughout the week about students breaking through barriers they used to face while reading. It is such a joy to see the students LOVE the time they spend reading. This year, Read-a-Thon has been very successful in encouraging students to develop healthy reading habits. Great job, Grammar School!
Bookmark Contest Winners!
Our Annual Bookmark Contest has been a great way to get students excited about Read-a-Thon! This year's theme was: Reading unlocks the door to adventure. We have the winning bookmarks pictured above. One winner was chosen in grades K-3rd, and one winner was chosen in grades 4th-6th. Stella's bookmark (pictured left) was the winning bookmark for the K-3rd category. She is in 2nd grade. Juliet's bookmark (pictured right) was the winning bookmark for the 4th-6th category. She is in 6th grade. Thank you to all the students who participated! It was a tough call this year!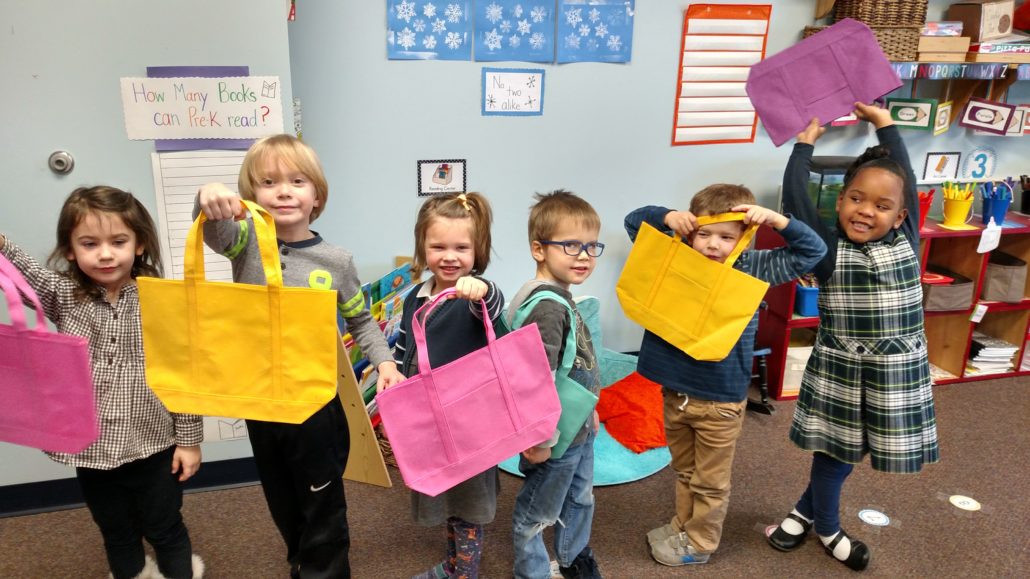 The PreK class has been learning about the library during this year's Read-a-Thon. Their teacher, Ms. Fromuth, has been taking them to the school library regularly. The students have learned how to check out and return books from the library. The class received book bags at the beginning of the week and were so excited to fill them with books! They are motivated to read as many books as they can in the next week!
Covenant Christian Academy is holding its 13th annual Read-a-Thon this month. This special two-week event is dedicated to celebrating the joy of reading with fun activities and prizes. In years past, the students have read about 175,000 minutes (that's nearly 3,000 hours!) in the two weeks of Read-a-Thon. Reading is a foundational skill that is highly valued at Covenant, not only for its educational value but also for the lifelong ticket it provides to explore new worlds and unlock treasures of knowledge just a page-turn away.
During Read-a-Thon, we focus on the joys of reading and spend some extra minutes exploring a book (or several).  It's also a time when we encourage families and friends to give in support of a classical, Christian education at Covenant – all without having to leave home during these cold, snowy days!
We thank you in advance for your support!
Donations can be made through the month of March. If you'd prefer to send in a check, make the check payable to Covenant Christian Academy and indicate that it should be directed towards Read-a-Thon. Please also indicate in the memo field which student(s) you are supporting. You may mail it to the following address:
Attn: Read-a-Thon
Covenant Christian Academy
1982 Locust Lane
Harrisburg, PA 17109
Feel free to contact Peggy Frantz, our Director of Development and Events, with any questions:
Peggy.Frantz@DiscoverCovenant.com | 717.540.9885 ext. 232